DRC : Groupe Forrest signs an exclusive partnership with KSB
Industrial

Forrest Industry, the Industry Department of the Groupe Forrest, has signed an exclusive partnership with the pump manufacturer KSB. This partnership gives Forrest Industry the exclusive right to sell, repair or maintain KSB's products and services throughout the territory of the Democratic Republic of Congo.
KSB
KSB is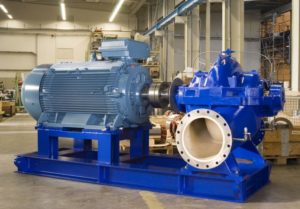 a manufacturer of pumps, valves and related systems, leader in its field of activity. It specializes in the manufacture of centrifugal pumps. KSB pumps are used in a wide variety of applications: mines and drilling platforms, industrial facilities, water pumping and treatment plants, power plants and buildings
KSB also offers solutions in all areas of automation and drive systems.
Founded in Germany in 1871, the KSB Group is now present on all continents and employs over 15,000 people.
Forrest Industry
The Groupe Forrest's Industry Department includes an electrical workshop (AEMI) and a mechanical and foundry workshop (AMF).
The synergies between these workshops make it possible to locally offer services and products of a quality equivalent to international standards.
The clients of Forrest Industry are the large industrial groups active in the DRC, notably mining, energy, petroleum, cement, brewing …
Contact Forrest Industry : info.fi@forrestgroup.com +243 (0)84 189 08 13