Our range of solar lights are autonomous and perfectly adapted to arid and tropical climates. Depending on the model, our fixtures can be placed in plots, driveways or along roads. They are equipped with an intelligent electronic system that manages the lighting according to the charge of the battery. Their very efficient lighting can be programmed according to your needs.
Thanks to their autonomy, our solar lights are installed in a few moments and require no connection. We are the only ones to offer a service life of more than 10 years without maintenance. Read more about our solar lights!
MOYI PLUS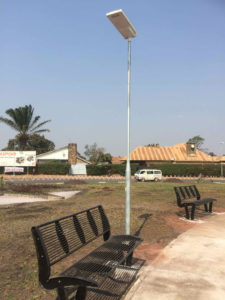 The range of "all-in-one" solar streetlights MOYI PLUS allows quality public lighting without electricity bill or connection.
This floor lamp consists of a frameless horizontal solar panel designed to prevent dust accumulation and loss of power. It offers exceptional resistance to heat, making it particularly effective in arid and tropical climates. The installation of the MOYI PLUS solar street lamp is quick and easy, it requires no cables or trenches. The lamp is directly operational after installation.
Applications: footpaths, plots, trails, bike paths, car parks.
JUA MAXI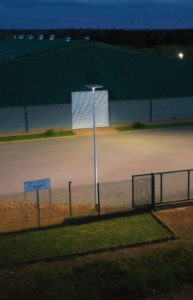 JUA MAXI is the most reliable and robust autonomous solar lighting solution. This innovative product offers a very simple and fast installation, while offering unequaled performances.
This lamp is equipped with an innovative and patented electronic system that intelligently manages energy according to the charge of the battery. This ensures lighting without blackout, even in low sunlight.
This floor lamp manufactured in France contains innovative and highly efficient LED modules offering the best ration lumens per Watt.
Applications: roads, industrial zones, car parks, security lighting.
Models : JUA MAXI Road, JUA MAXI Area
JUA MAXI 4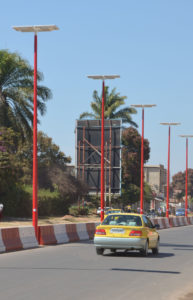 JUA MAXI 4 is a power lighting system consisting of 2 JUA MAXI Road mounted on a single bracket. These features make it the most reliable and robust standalone solar street lighting solution.
This innovative device combines quick and easy installation with unparalleled performance.
Applications: main roads, car parks, roundabouts, bridges.
JUA & MOYI range
Our JUA & MOYI range, with its horizontal panels, has been specially designed for countries in the tropics where orientation of the solar panels is not necessary.
These solar products that we offer have been developed by SUNNA DESIGN, a French company, leader in the field of public solar lighting.
This company constantly invests in innovation to offer qualitative and highly reliable products with the best quality / price ratio in the DRC.
About Congo Energy
We offer LED and solar lighting products at competitive prices and all with a guarantee.
Our prices are all inclusive: from study to completion, we accompany you on your entire lighting project.
Please do not hesitate to contact us for a quotation.